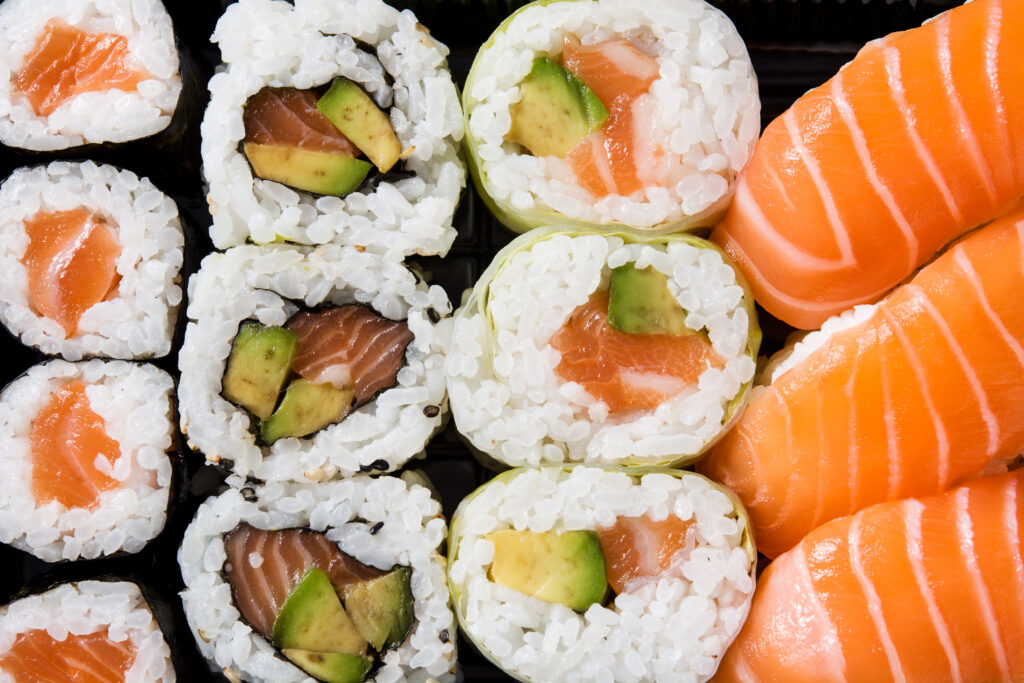 Sushi
Superior Quality
As the largest fresh fish supplier in Northern Nevada, we offer an array of superior quality sushi items. Please call customer service for details and additional item inquiries.
Deciphering the terminology associated with sushi is essential. Japanese names of the species commonly used in sushi:
Ama-ebi: raw shrimp, head-on
Anago: sea eel
Chutoro: marbled tuna belly
Ebi: cooked shrimp
Hamachi: young yellowtail
Hirame: halibut fluke
Hotategai: scallop
Ika: squid
Ikura: salmon roe
Kani: crab
Katsuo: bonito
Maguro: tuna
Saba: mackerel
Products available from Sierra Meat and Seafood:
Fresh
---
Ahi Tuna #1
Atlantic Whole Salmon 14/16
Hamachi Fillet
Hirame (Halibut Fluke)
Kaiware Sprouts
Kampachi
Mirugai (Geoduck Clam-Live)
NZ Tai Snapper
Salmon Fillet Skin-On
Tombo
Uni (Sea Urchin Roe)
Uzura (Quail Eggs)
Whole Striped Bass
Caviar: Ginger Infused Whitefish Roe, Smoked Golden Trout Roe, Tsar Nicolai White American Sturgeon
Frozen
---
Amaebi – large head on shrimp
Chuka (Seaweed salad)
Crab (Imitation Stick Marusei)
Ebi Shrimp (Cooked) 2L – 3L – 4L
Edamame
Gari White
Greenlip Mussels 1/2 shell
Hamachi Fillet
Hiramasa Skin-Off
Hokkigai (Surf Clam)
Ikura (Salmon Roe)
Inari (Fried Tofu Pockets)
Izumidai 7-9
Kani-Kama – Super Shred
Osaki Kani-Kama
Read More ....